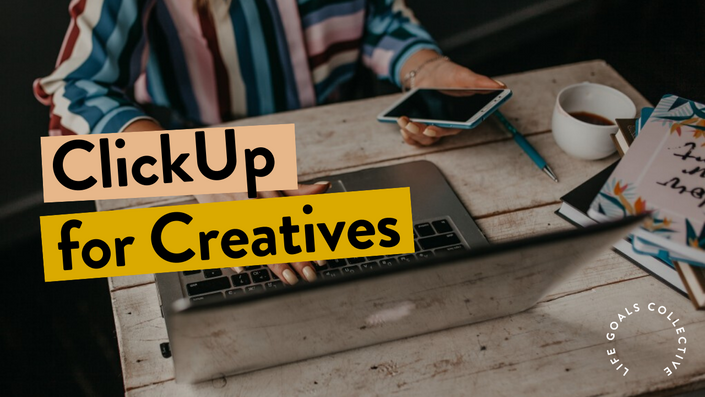 ClickUp for Creatives
How To Get Your Life and Business Organized AF With ClickUp
Unlock a planning system to make your life and business super freakin' organized, within ONE app.
If I told you that you could be a productive powerhouse without spending hours planning, duplicating your efforts across multiple apps, or asking yourself, "Where the heck did I write that note again?" would you believe me?
I was scattered, overwhelmed, but couldn't find a better system to do everything I wanted to do.
Then, I found ClickUp and it changed everything.
It does it all – from managing your day-to-day, to mapping out your goals, to crafting lists and keeping track of everything in-between.

And we want to show you exactly how you can use it to make it work to improve your life and give you a system that keeps you motivated to do the work.
This isn't a system to make you productive for a week, but for making you known as the boss who gets sh*t done.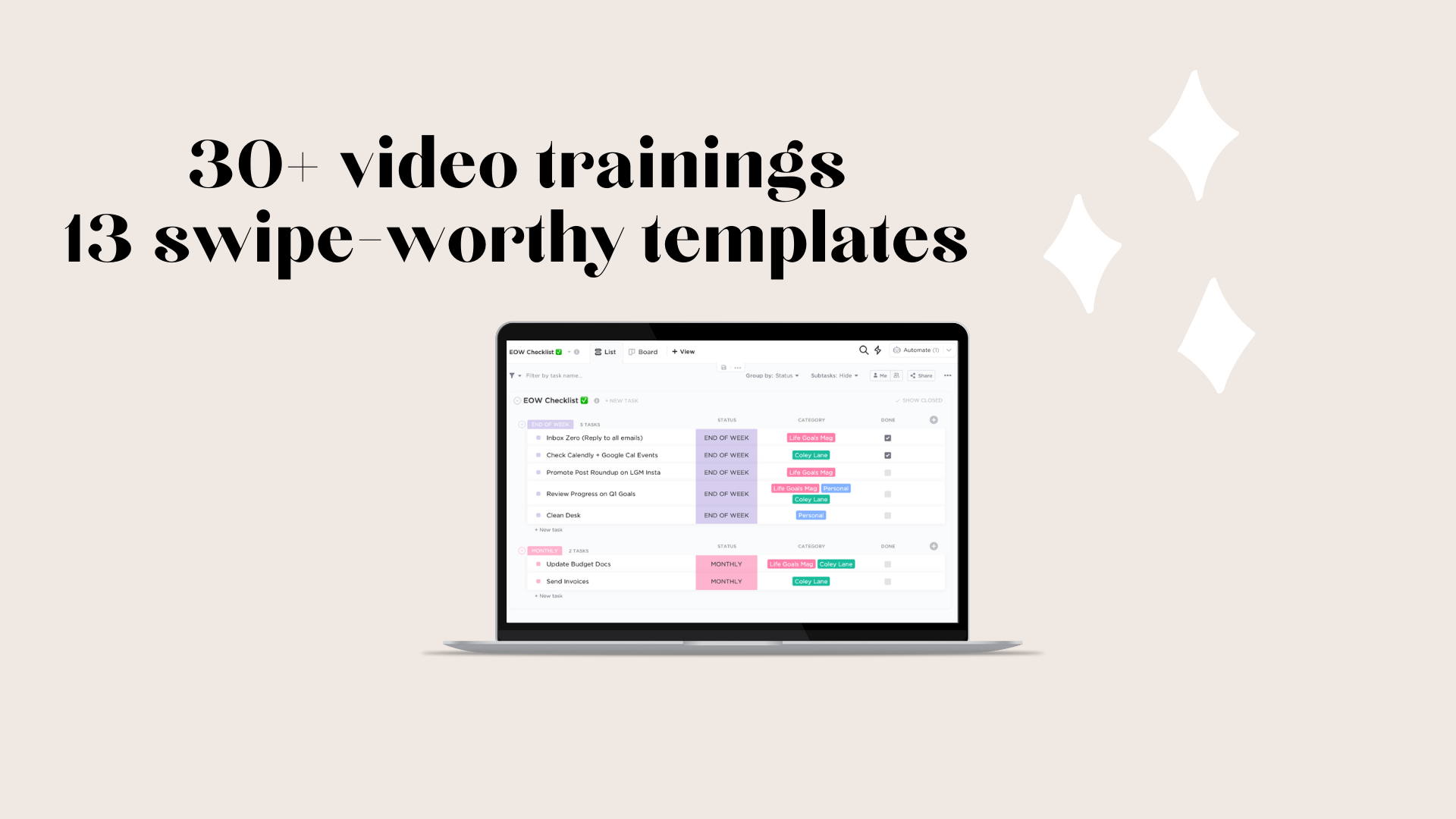 What is ClickUp?

ClickUp is an all-in-one organization app to plan your life and business. You can use it to plan your days and weeks, prioritize your to-dos, set goals, sync to your calendar, create business workflows and manage your personal life completely with boards, lists, docs, and calendar views. Prepare to forget about all 20 of your current systems, because you only need this one. It's FREE and has all the best features competitors have – and exclusive features you can't get anywhere else.
So let's dive into what's included in this clickup vault!




OVERVIEW

⚡️DETAILED WALK THROUGH ON HOW TO NAVIGATE CLICKUP IN 30 VIDEO TRAININGS

We're giving you all the details on how to create a space, manage your inbox and notifications, use docs, dashboards, time tracking, automation and everything else that can be a little confusing at first glance. If it looks or sounds overwhelming at first, don't worry, we'll simplify it and walk you through everything you need to know to make it work for you on your computer.

Plus, learn how to make your boards aesthetically pleasing – because let's be real, a pretty organization system makes it a lot more fun!

😍 13 DONE-FOR-YOU TEMPLATES

Steal all the boards and lists included with our pre-made templates. With the click of a few buttons, you'll have access to the done-for-you templates to customize how you want. Each template comes with a video walkthrough on how to use it and make it your own.




PERSONAL LIFE

✏️ WEEKLY SCHEDULE

We'll show you how you can create a weekly schedule to plan your life, because it's a total productivity game changer. Plus, you'll get access to checklists to make your weekly schedule even easier.

📓 DAILY PLANNING<📓>

What's a good system without daily planning? You'll get access to our behind-the-scenes planning routine for how to plan your to do list, manage your inbox and more strategies to make your day-to-day planning simple.

🔥 TIME BLOCKING STRATEGY

Is time blocking a system in your life, yet? Well, it is now. Learn how to time block within ClickUp to get more done in the day. This is the #1 tool for getting the right things done to move you forward.

🍉 MEAL PLANNING

Meal planning just got way more fun. This visual meal planning system to map out your recipes makes such a practical task become fun. Dinners will never be the same.

✨ UP-LEVEL LIST

Keep track of your purchases as you save for what you want. In our Up-Level board, you can view what you want to buy, what you're saving for and what you purchased.

📖 READING LIST & TRACKER

So you started a Good Reads account, but never actually keep up with it? Sounds familiar. We're giving you a fun way to keep track of all the books you're reading and want to read in the future.

📉 HABIT TRACKER

You want to develop healthy habits and you're workin' on it, but you'd like a place to track them. Bullet journals are great for that - but way too time-consuming. We have a simple habit tracking system for you that helps you hold yourself accountable.

💰BUDGETING

Track your expenses and stay on top of your spending. Say goodbye to your spreadsheets, because your expense logging just got so much easier.




ONLINE BUSINESS

📅 EDITORIAL CALENDAR

If you have a blog, an editorial calendar is the key to keeping you organized and on track. Steal the exact editorial calendar format we follow to keep Life Goals Mag running.

📱SOCIAL MEDIA CONTENT PLANNING

Craft your social media content strategy week by week to see them at a glance or by individual platform. Content planning made easy.

🙋 COACHING/CLIENTS LIST

Need to keep track of incoming clients? We'll walk you through how to create a clients list and use forms to make a super efficient on-boarding process.

🎙 PODCAST WORKFLOW


Learn how to set up your podcast flow so that you can focus on recording those episodes and worry less about keeping track of it all. This workflow will make it super easy to keep on top of episode ideas and upcoming interviews.

👯 PARTNERSHIPS

Work with brands and want to contact dream sponsors? We got you. We'll show you how to keep track of brands you're pitching and current contacts, with all their details.

💡 COURSE LAUNCH

We're breaking down our course launch strategy with 4 simple steps. Use this strategy to build your first course.

✍️ GOAL-TRACKING

How do you know if you're on track to meeting your current goals? Learn how to create an epic goals system where you can track your progress along the way.

✔️ QUARTERLY GOAL-SETTING

Start setting your goals on a quarterly basis with this system. You'll wish you used this used this goal-crushing strategy sooner.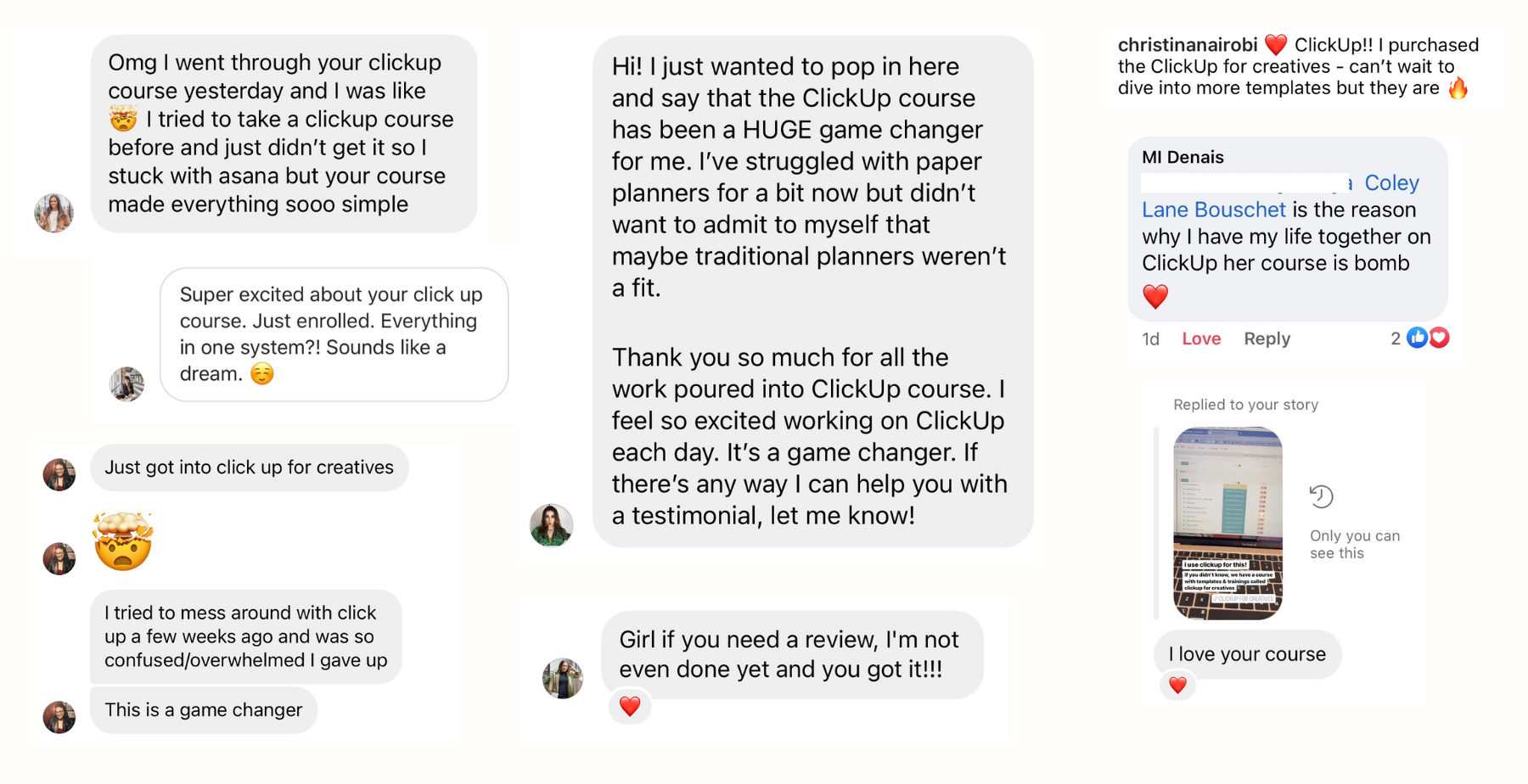 You need a system that works for you.
ClickUp is flexible, customizable, free, and changes the game for organization.
But after you download it, you might find yourself just as lost as ever.
The magic is in how you set it up.
We're walking you through how you can use it to work for your life and business. There's a lot of features to navigate, so we wanted to simplify how you can create a system that works for you.
You'll be able to visualize, copy & personalize the strategies we've implemented personally and professionally and get tips for creating workflows to get more done.
We created these video trainings for you to finally organize all the aspects of your life, because you're doing A LOT. And it feels so good to feel like you have your sh*t together, especially when you're running a business or side hustle on top of everything else.
Let's be real. It's a lot to handle life, let alone organizing your business too.
Running it all requires an organized space, so you can free your mind of all that clutter – so dive in to create a system that actually simplifies your life and biz, instead of making more work for you.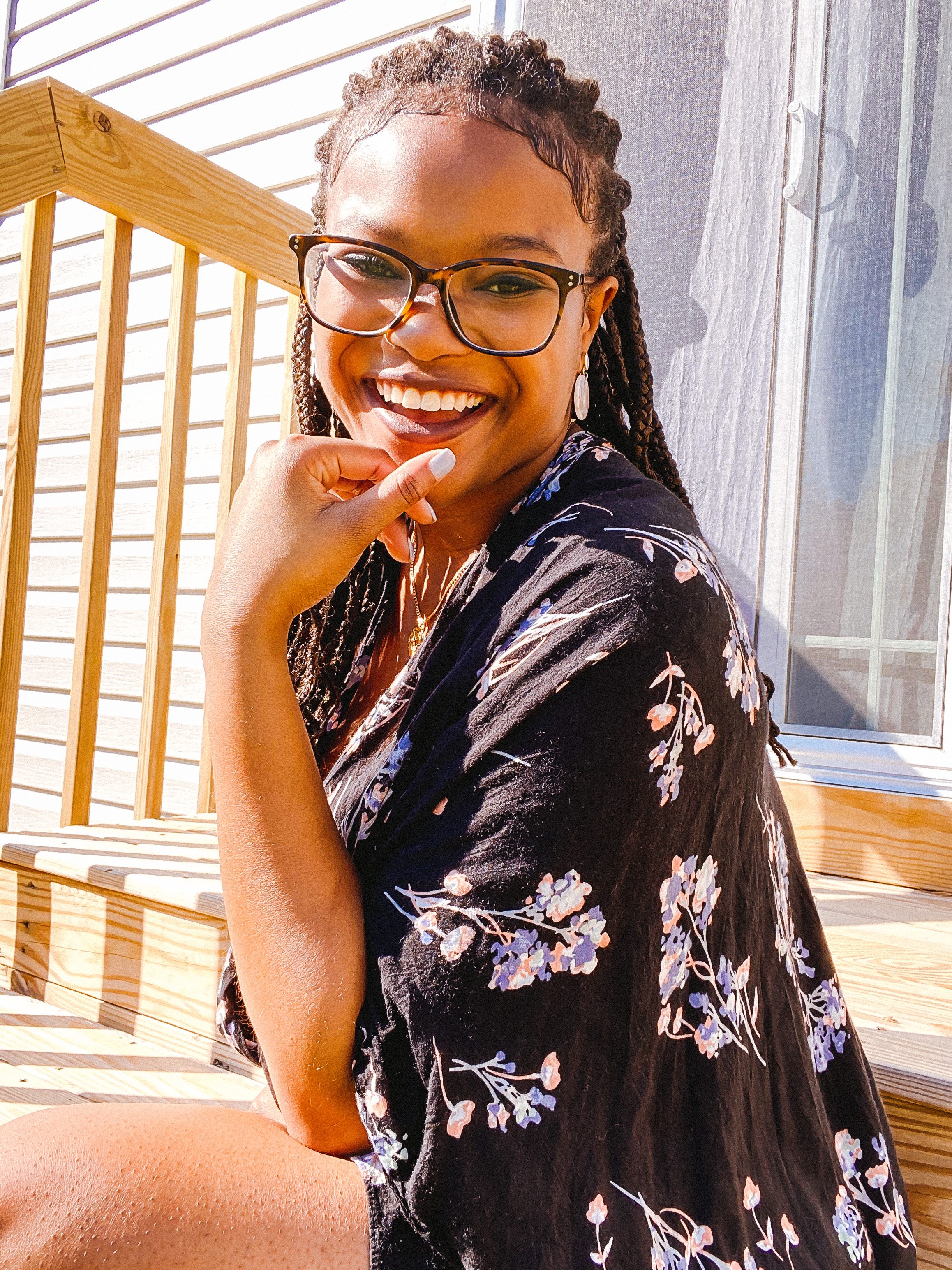 "It's a no-brainer!
If you're ready to massively implement structure in your life and business, ClickUp for Creatives will help you do it one step at a time, reducing the amount of stress that comes along with new platforms.
You'll be thankful you started using ClickUp, but you'll be even more thankful you invested in a STEAL of a course to help you navigate the learning curve of such a powerful platform.
I'm not scrambling around in different sites or platforms to find what I need, nor am I forgetting things that need to get done. The templates, like social media, helped me create an action plan that I can stick to. I love to see what other people are doing to inspire me, and Coley is so organized while keeping things aesthetically pleasing, which I value!"
- Ariel Richard
Your Instructor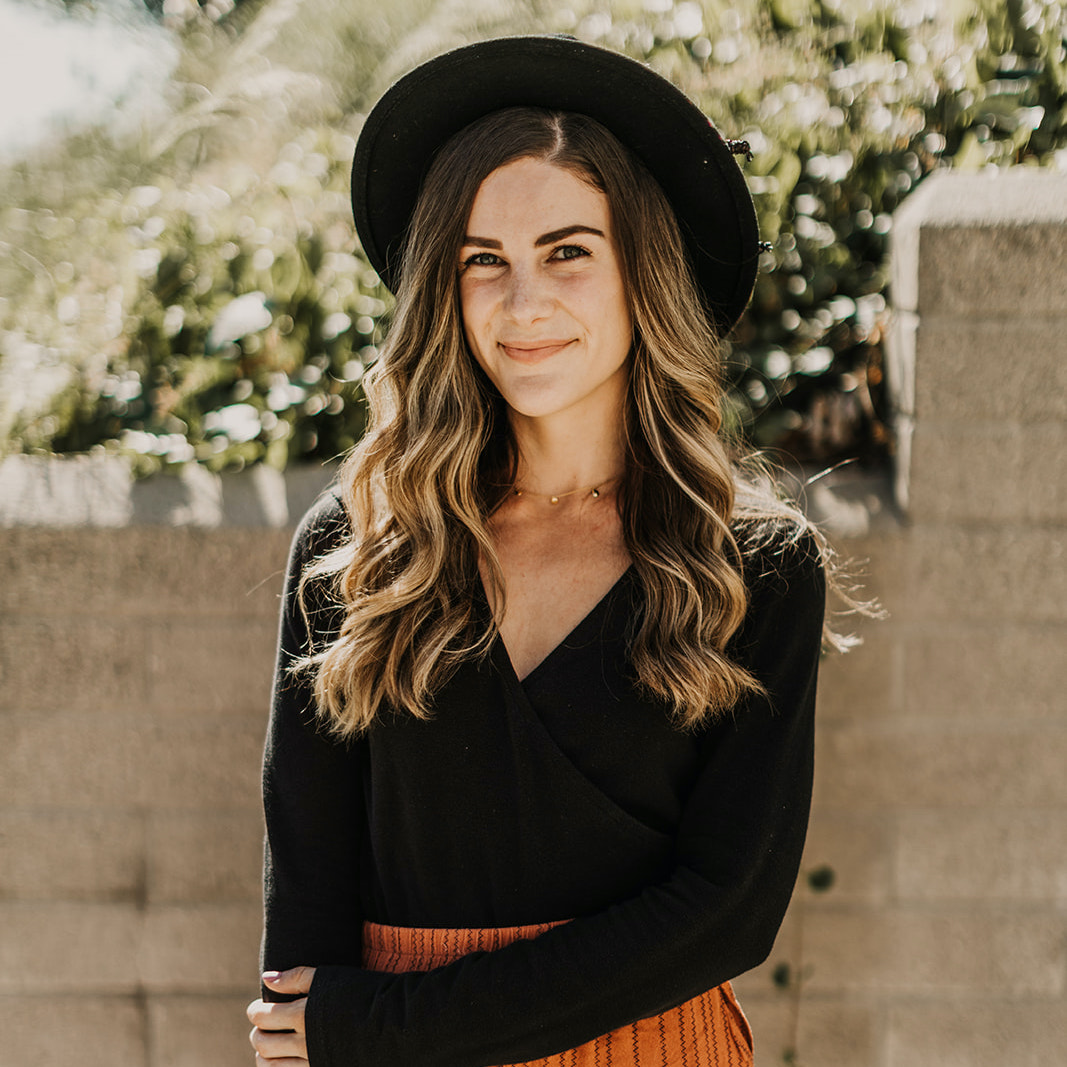 Coley Lane Bouschet is the founder of Life Goals Collective, an online space for millennial women working to become the best version of themselves. She worked in digital media for over 6 years and now helps women create their own online dream business through simplifying and crafting viral-worthy content. She loves helping women step into their power and take CEO-level control over their lives and businesses more than avocado & hummus – and that's saying heck of a lot.
Frequently Asked Questions
Is it easy to switch over if I'm currently using Asana, Trello, Monday, etc?
Yes! Super easy. I made the switch from Trello and was able to import boards from there with no issues. ClickUp has video instructions on how to do this as well.
I work with a team. Would this course be a good fit for me?
It depends. This course was really made with solopreneurs and creatives with side hustles, as I am a one-person team currently. While I do provide tips within the course on how you can adopt these with a team, this course will be most beneficial for personal use.
Will I have access to future updates?
Yep, you sure will! You'll have lifetime access and updates will be gifted to you in the future for free.
What if I just use my phone or iPad? Will this work for me?
I recommend the desktop version 10x more. It's much easier to navigate, and you will have access to all of the features. You can use the website or the desktop app. We'll be primarily walking through how to use it on your computer.
I don't have an online business, will this course still be useful to me?
Absolutely! There are so many trainings for managing your personal life. And if you ever decide to start a blog or online business in the future, you'll have the system ready for you to duplicate.
Are there refunds?
Because of the digital nature of this course, there are no refunds.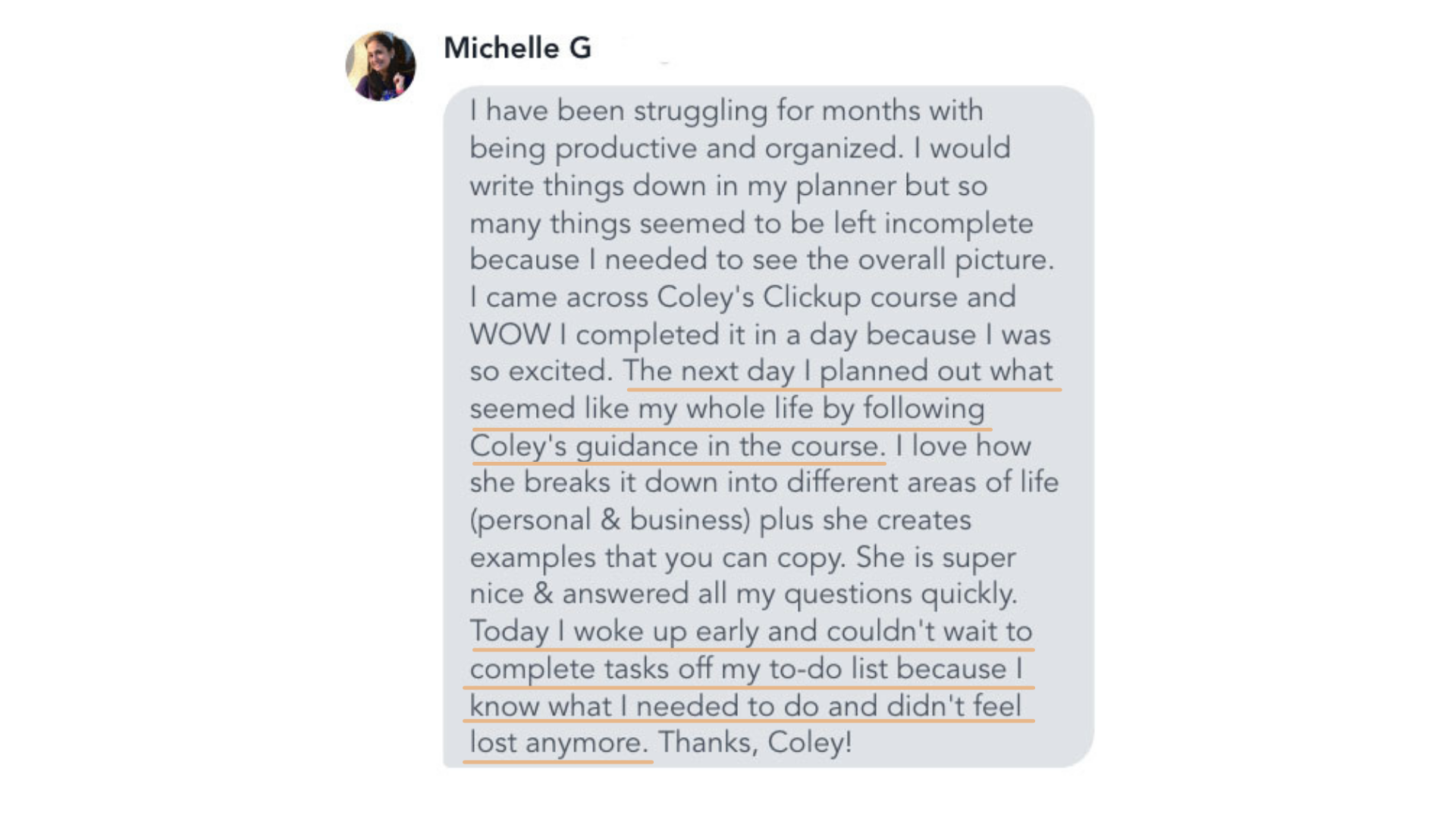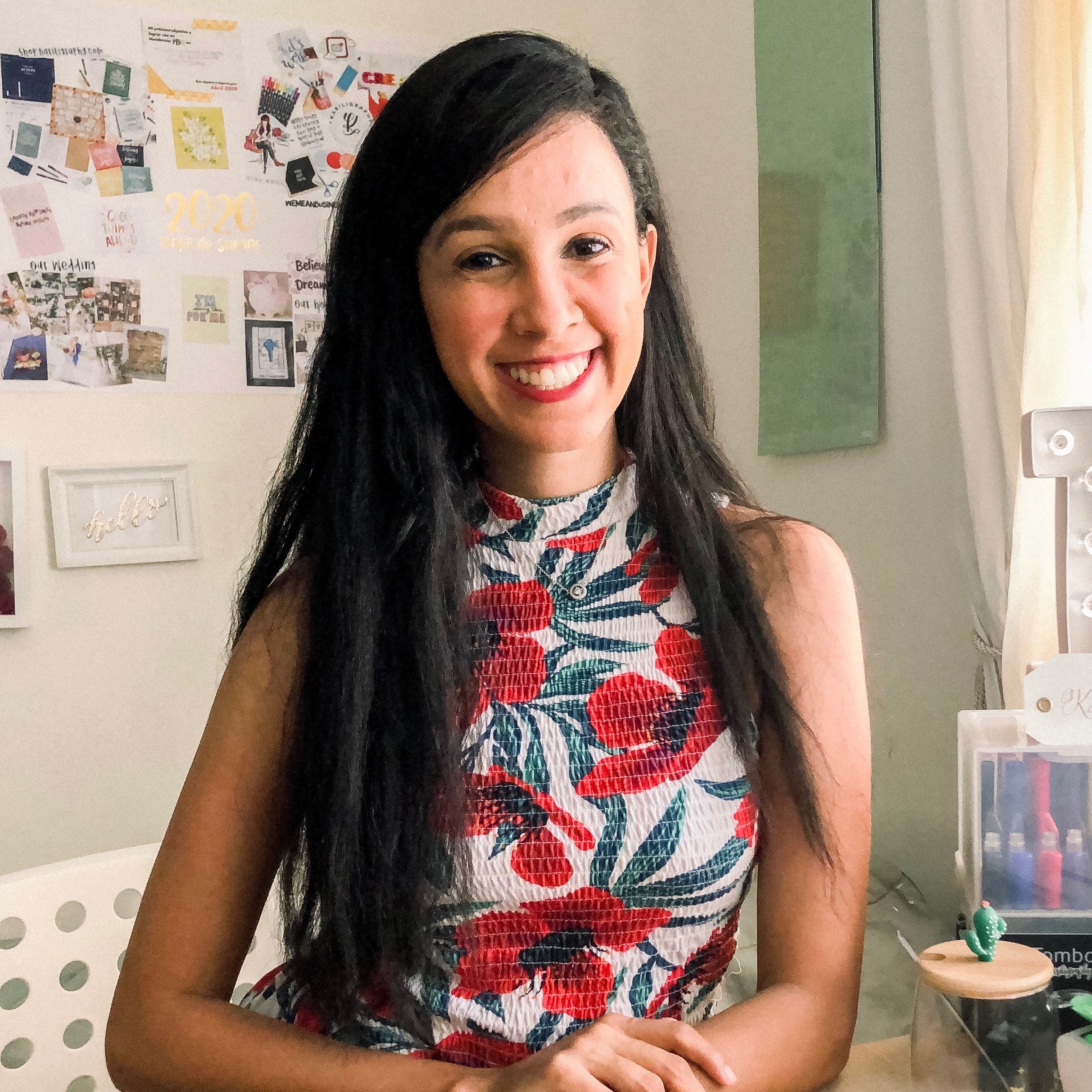 "CFC IS BEST THING THAT EVER HAPPENED TO ME! I didn't know that I needed something until this course (LOL).
Before ClickUp For Creatives, my organization was a total mess, I had things all over the place – different notebooks, different apps for ideas, content. I didn't have a place where I could have everything for my business plan and everything I just have in my mind.
The templates were amazing. I used most of them and changed some things like stats and names so It would work with my own process.
I'm 100% sure you will be using at least 4 or 5 templates of this course, and if you are like me, your entire life will feel organized and in control."
- Karissa De Jesús
Ready to get your life in order? Join hundreds of students inside ClickUp For Creatives now